TIP: Did you know you can view the troops you're signed up for?
Gary Cardenas - TK72313






501st Member Since:
September, 27, 2017
501st Troops: 139
Rebel Legion Troops: 7
Droid Builders Troops: 0
Mando Mercs Troops: 0
Other Troops: 0
Saber Guild Troops: 0
Total Finished Troops: 141
Total Troops Last 365 Days: 34
Favorite Costume: 501st: Tusken Raider: ANH (male)
Volunteer Hours: 501
Direct Donations Raised: $2,515
Indirect Donations Raised: $34,000
Upcoming Troops
Troop History
Awards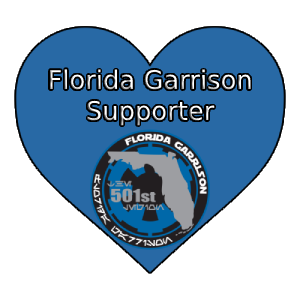 First Troop Completed!
10 Troops
25 Troops
50 Troops
75 Troops
100 Troops
Costumes
Stormtrooper: ANH Stunt
Greedo
Tusken Raider: ANH (male)
Imperial Crew: Mechanical Crew
AT-ST Driver
Imperial Crew: Scanning Crew
Bith Musician
Snowtrooper
Imperial Crew: Bridge Crew
TIE Pilot: Reserve Pilot
Imperial Gunner
Officer: Staff Officer, (Black)
TIE Pilot: Original Trilogy
Royal Guard: ROTS
Imperial Navy Trooper
Imperial Navy Trooper: Dress Uniform
Darth Tyranus: AOTC
Officer: Line Officer, (Olive Drab)
Officer: Warrant Officer
Officer: Imperial Security Bureau
Snowtrooper Commander
Emperor Palpatine: ROTS/ESB/ROTJ (Black Sith Robe)
Tusken Raider
Doikk Na'ts
Yrag Sanedrac
No Mando Mercs costumes to display!
No Saber Guild costumes to display!
No Droid Builder droids to display!
---
Users Online
No users online!
---
Website created by Matthew Drennan (TK52233). If you encounter any technical issues with this site, please refer to the FAQ page for guidance.
If you are missing troops or notice incorrect data, please refer to your squad leader.